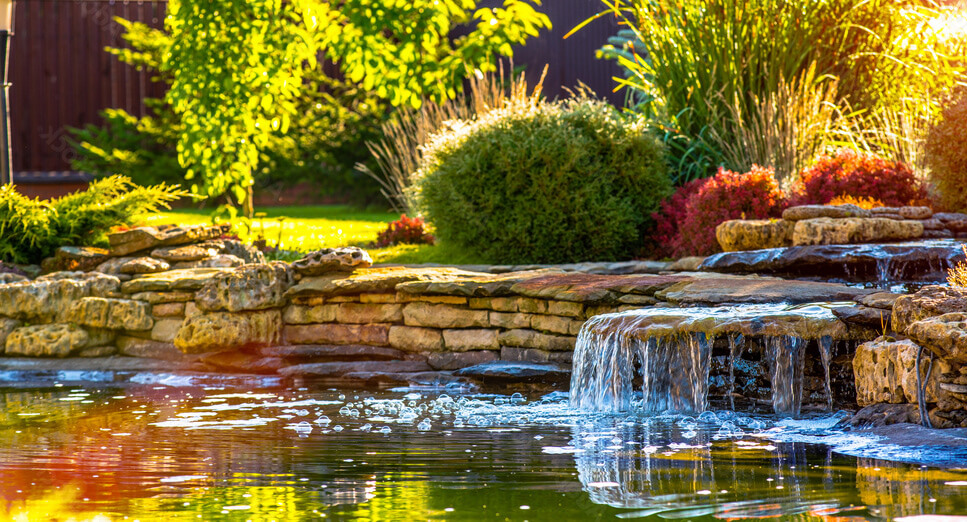 Fish / Swim Ponds
Invite Nature into Your Haven
A natural fish or swim pond brings nature even closer. Are you wishing to add an exotic flare to your backyard? Any pond will attract wildlife so if you love the idea of living in the land of the wild and free, a pond will suit your tastes perfectly.
Installing a natural pond requires a practiced approach. Ecosystems are delicate. As Aquascapes, our pond products provider says, "Every piece of the ecosystem puzzle must be present in order for a true ecosystem to be in place."
For this reason, we conscientiously map out a plan that involves every piece of the pond puzzle. We help you sort through the gravel, plant, and fish choices to create an oasis that keeps you close to nature.
Get Your Water Features Running
Make the Plans.
As landscape designers, we set your vision as our compass. This stage includes imagination, estimates, 3-D drawings, revisions, and frequent conversations.
Watch Them Unfold.
Creation. Your masterpiece comes to life through much digging, building, and planting. We communicate with you daily during this process.
Love Your Outdoors.
You're enchanted daily by a space where you love to be alone and love to host guests.
Building Artistic Fish / Swim Ponds For 25+ Years
Cookie cutter design. Same patterns and shapes. That's not us. We join your memories and dreams with our expertise to create a space that couldn't be anyone else's.
We work like artists. While we lay out design plans before we start, we change them freely if inspiration strikes differently. Our process stays flexible to both your new ideas and ours.
Since we're a small company, you'll always have access to the owner. You won't have to worry about your vision getting lost in "whisper-down-the-lane" communications.
We are members of the ICPI (Interlocking Concrete Pavement Institute) and the NCMA (National Concrete Masonry Association).