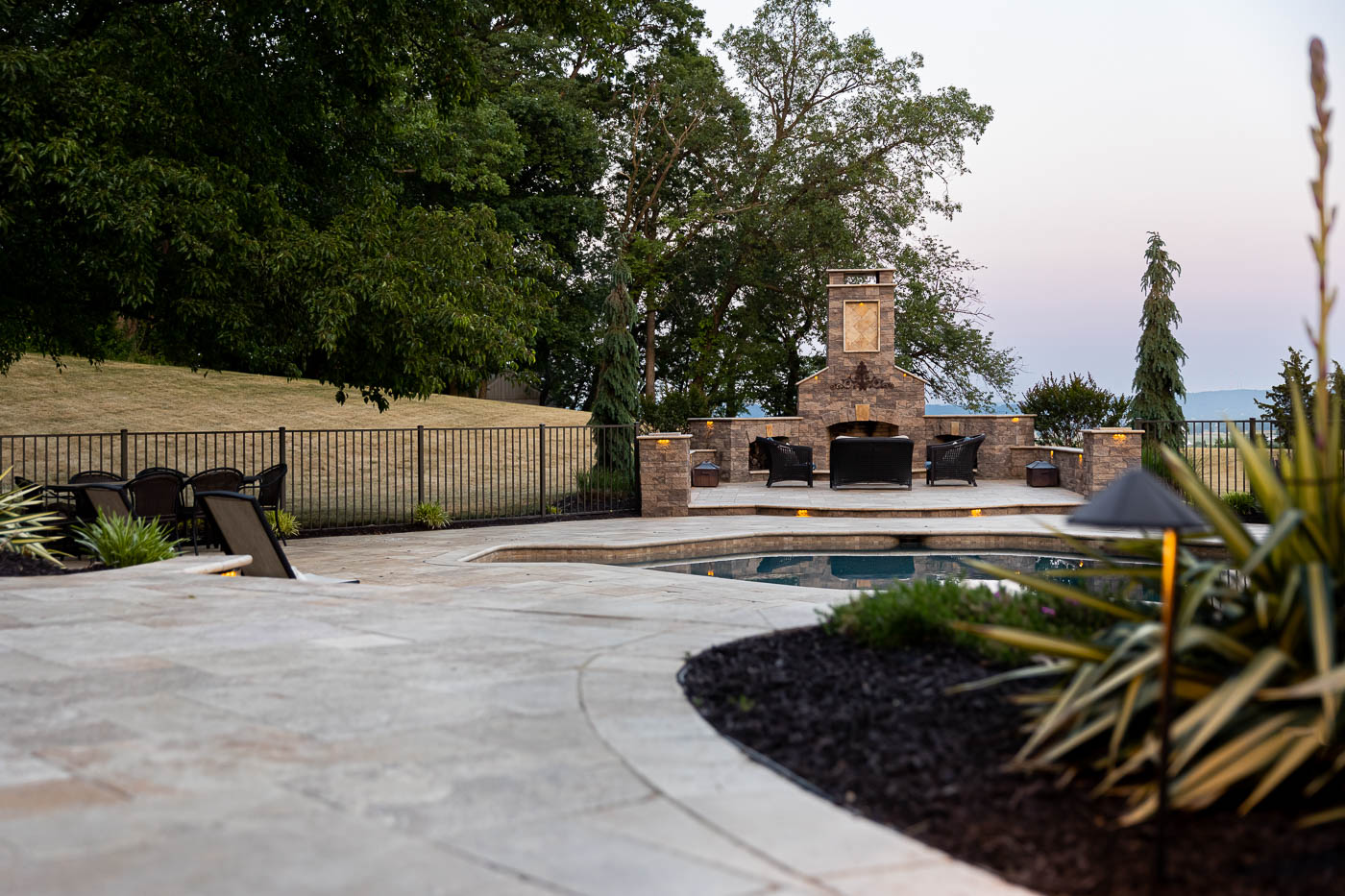 Fire Pits & Fireplaces
Fire Features that Build Connection
Uncle telling exploration stories. Open-hearted, late-night conversations. Guitars strumming and oldies' sing-alongs. For millennia, fires have provided the atmosphere that draws out some of our most poignant connections as humans.
Fireplaces and firepits help to make your outdoor space comfortable for more months of the year. What's more compelling than a fire flickering as the day tiptoes away?
Custom Fireplaces
Custom fireplaces fit the aesthetic of a pavilion or patio structure perfectly. A chimney carries the smoke away from your guests, creating a more pleasant fire experience. The chimney also provides an anchor point for a screen. The intricate stonework of a fireplace will take any outdoor space up a notch.
Custom Fire Pits
While a fireplace offers elegance, a fire pit brings whimsy. Your guests will gather around in that timeless campfire style–a tradition that bonds families and friends. Make s'mores and let the entertainment of the flames fill in the lulls of your conversations.
How To Get Started On A Fire Pit or Fireplace
Make the Plans.
As landscape designers, we set your vision as our compass. This stage includes imagination, estimates, 3-D drawings, revisions, and frequent conversations.
Watch Them Unfold.
Creation. Your masterpiece comes to life through much digging, building, and planting. We communicate with you daily during this process.
Love Your Outdoors.
You're enchanted daily by a space where you love to be alone and love to host guests.
Building Artistic Fire Pits & Fireplaces For 25+ Years
Cookie cutter design. Same patterns and shapes. That's not us. We join your memories and dreams with our expertise to create a space that couldn't be anyone else's.
We work like artists. While we lay out design plans before we start, we change them freely if inspiration strikes differently. Our process stays flexible to both your new ideas and ours.
Since we're a small company, you'll always have access to the owner. You won't have to worry about your vision getting lost in "whisper-down-the-lane" communications.
We are members of the ICPI (Interlocking Concrete Pavement Institute) and the NCMA (National Concrete Masonry Association).